Find out what 300 area businesses already know–Chamber membership is a great value!
Get your business the exclusive benefits that only membership can provide! The Del Rio Chamber of Commerce offers regular opportunities for publicity, networking, and growth. Monthly meetings, mixers, seminars, and annual events like the Business EXPO and Big Game dinner will keep you and your business thriving. Fill out your application online!
The Chamber offers Business Memberships for businesses and organizations and Associate Memberships for individuals. The fee for Business Memberships depends on your organization type. For more information about current Chamber projects, committees, and programs, keep reading!
You will notice the benefits of a chamber membership immediately after joining. Networking is the key to expanding your Business' footprint and image in the community. When a new member joins, we share the great news with our 12,000+ followers on social media. Red Carpet Ambassadors give our new members the celebrity treatment with a ribbon cutting ceremony, which is also featured on our social media outlets and usually earns a spot in local print media. You will also be added to our online business directory, a well-used resource by locals and tourists to find services and attractions.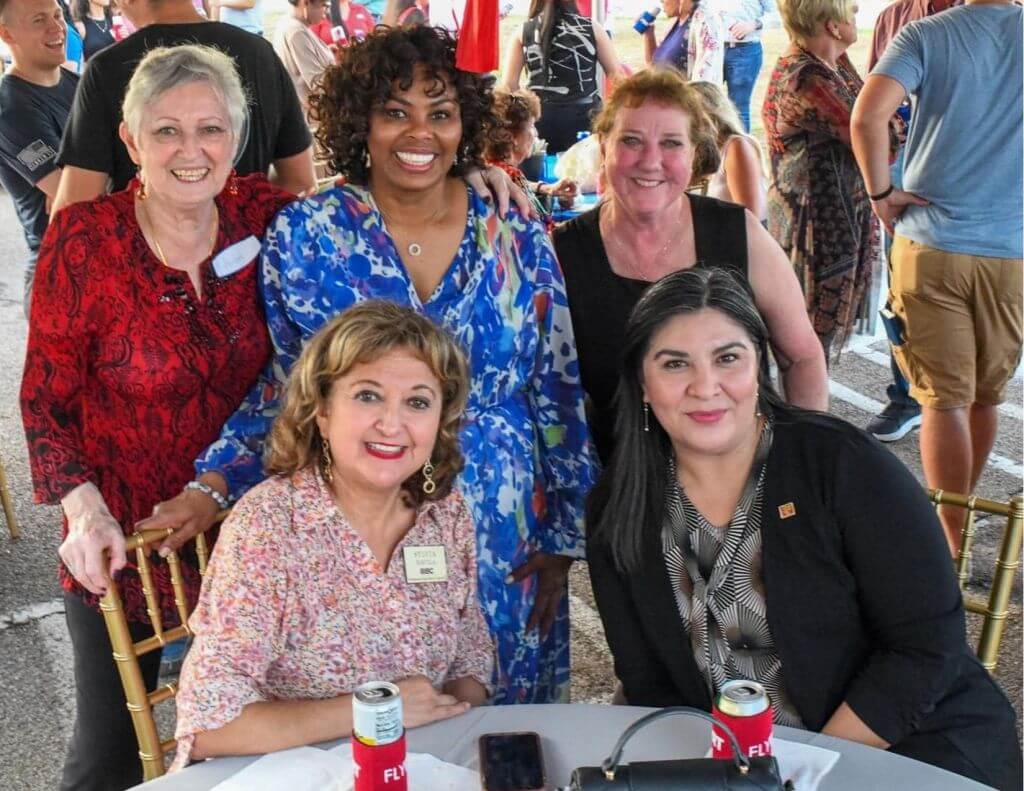 Although much of today's advertising and networking is conducted online, face-to-face interactions are crucial for your business' success. Connect with fellow chamber members and potential clients at our monthly events, including monthly membership meetings with guest speakers, lunch-and-learn seminars, and "business after hours" mixers. Members are urged to sponsor/attend our monthly Business-2-Business Mixers that also serve to welcome new undergraduate pilot training students to the community and Laughlin Air Force Base. The Chamber also stays busy planning several exciting annual events, including the Business EXPO, Wild Game Dinner, Dinner and Awards Banquet, and Border Bass Battle. These events are excellent opportunities to connect with potential customers, make business connections, and become a marquee sponsor. Members may also join one of our active committees aimed to help Del Rio prosper. By joining the chamber, you help to ensure this community's progress which in turn ensures the success of your business!
We're at Your Service!
If you're looking for a site for your company's next meeting, retreat, or incentive trip, consider Del Rio. A beautifully historic city, Del Rio provides excellent facilities and offers business guests a full agenda with attractions, shopping, and outdoor adventure. Nestled just moments from Lake Amistad and Mexico, Del Rio is within hours of most Texas cities. Instead of getting lost in some major metropolitan area, make your event stand out in Del Rio!
Our experienced Visitors Bureau staff will cover every little detail to help your event succeed in a big way. In fact, we are prepared to provide total assistance with your meeting, from preplanning to entertaining theme parties to the final event. Organizations we've worked with like our way of doing business: cost-effective, customer-focused, and result-oriented. We know what it takes to make everything look great—including you!
Texas is known for wide-open spaces, and Del Rio is no exception—especially when it comes to meeting rooms. If you have plans for a big event, the Del Rio Civic Center is just the place. The newly renovated meeting facility has two primary convention halls that can accommodate a class, theater, banquet, or dance and have a capacity of 1,305 and 1,050. The Civic Center also has four additional meeting rooms conveniently situated around the main convention halls for breakout sessions.
Ramada by Wyndham also has several meeting rooms, including a Grand Ballroom that can be used as 3 separate meeting or breakout rooms, the Sun Blossom Room adjacent to its full-service restaurant, and a business center.
Download our Bid Packet for more details
Our Work
The Chamber has several active associations and committees to that serve to grow and support local talent, develop synergy between Laughlin AFB and the city, bring business to Del Rio, and promote prosperity.
Military Affairs Association
About the Military Affairs Association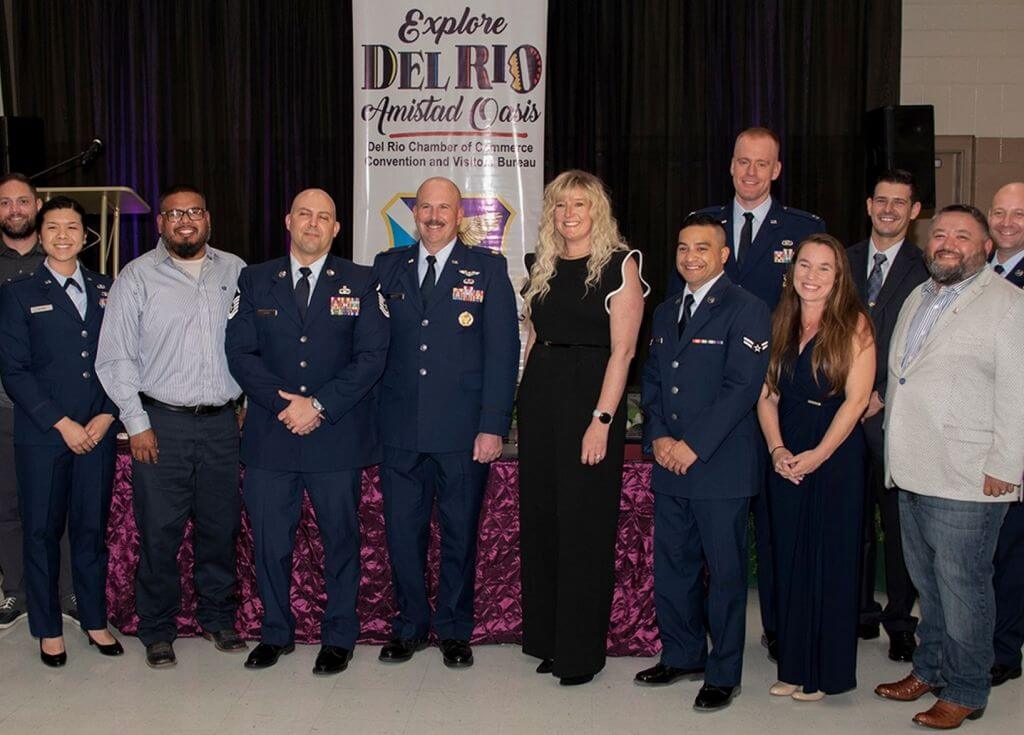 The purpose of the non-profit Military Affairs Association (MAA) is to promote goodwill between Laughlin AFB and the community, assist in the integration of military personnel to Del Rio, coordinate efforts to strengthen current missions/assist in possible new missions, and implement measures to be taken to ensure Laughlin and Del Rio's future relationship.

The association has several major goals:
Be classified as the best in AETC Base-Community Relations.
Maintain a task force that ensures the future of Laughlin AFB and Del Rio.
Coordinate military, city, county, and school efforts.
Provide necessary sponsorship for VIP military when in Del Rio.
Recognize outstanding military and civilian accomplishments.
Provide Class Sponsors for each new pilot training class.
Welcome all permanent party transfers to Laughlin and offer assistance where needed.
Recruit necessary members and financial support to accomplish our combined goals.
Military Affairs Membership
The MAA is made up of Chamber members, but is operated under a separate corporate and dues structure. Membership costs an additional $125 per year, plus optional contributions. "Laughlin Strong" funds (suggested contribution of $100/year) enhance continuous efforts to work with LAFB on improving immediate and future facilities and supporting efforts to fight base realignment along with the closure commission (BRAC). The "Grow Your Own" project (suggested contribution of $100/year) is dedicated to helping educate, train, and prepare students for immediate job placement at LAFB through programs at Del Rio High and the Junior College.
The MAA, Chamber, County, and City have established a partnership to help meet Laughlin's unfunded needs. Not only does this group advocate for Laughlin and its families, but also the Undergraduate Pilot Mission. In the past 7 years, over $50 million in State of Texas grants (DEAAG) have been received to support the flying mission, with projects such as a new Security Forces entrance, runway lighting improvements, and sunshades to protect the fleet. A key accomplishment was the establishment of the Laughlin Elementary STEM Magnet school, named after local Vietnam veteran Roberto "Bobby" Barrera. In spring of 2023, a $35-million remodel of the enlisted dorm was approved, which will allow the airmen to enjoy apartment-style living.
Del Rio Area Development Foundation
The Foundation, a non-profit Texas Foundation under Section 501(c)3, serves as the Financial Development Arm of the Chamber. The Foundation will strive to develop programs that enhance the education of its members, improve quality of life for all its citizens, promote tourism, as well as work to meet unfunded needs of the Del Rio - Laughlin Air Force Base communities.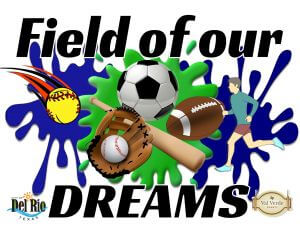 The City's community sports park began when the Chamber's Economic Development Committee identified a need for a Sports Complex to help increase the quality of life for its children and their families. The City of Del Rio was awarded a $500,000 grant from Texas Parks & Wildlife. The remainder of the funding came from the donation of land to a substantial amount of in-kind work done by the City and the County. Approximately $240,000 has been raised by the Chamber's EDC group through donations from the business community.
View the Sports Park Presentation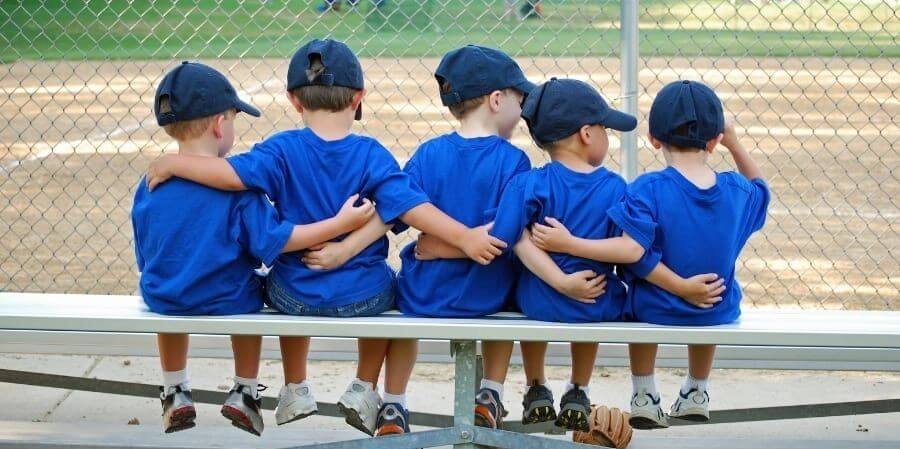 Local Industry
Del Rio is a vibrant and growing area for industry.
The Maquila Possibility
Del Rio/Ciudad Acuña is home to over 50 Maquiladora plants, including such well-known companies as Oster, Arconic, General Electric, San Antonio Shoe Co., AlliedSignal Automotive, Bridgestone/Firestone Del Rio Test Center, New York Air Brake, Joyson, Adient, Park Ohio, and Caterpillar, all of whom came here to avail themselves of low-priced labor while enjoying the technology and lifestyle of the United States.
Ciudad Acuña, Coahuila, Mexico, is in the lowest wage region of Mexico. Mexican minimum wages, for direct labor, with all fringe benefits included, have remained in the range of USD 1.15 to USD 1.35 per hour as the peso has been revalued in comparison with the dollar. Major advantages to the Del Rio/Ciudad Acuña locations are short border crossing times, a minimum of union activity, and the ability to use U.S. trucks and drivers to deliver to Mexican facilities.
The United States-Mexico-Canada agreement (USMCA agreement) substituted NAFTA and promotes a competitive North America. Import/Export products must have at least 40% of their components made within North America. By 2027, products that do not comply will be taxed an additional 40%. Additional benefits of the agreement include:
Reduced cost of moving goods internationally

Greater protection for intellectual property

Support for e-commerce
A "shelter" operation can provide a facility, staffing, training, equipment setup and accounting. Many companies begin operations in this manner. Typically, these firms take over or establish their own operations in one to three years.
The true "maquila" offers the largest savings, but it requires such expertise in setup, construction, staffing, and operations that most companies without experience retain a consultant. Del Rio offers several experienced, capable consultants who have set up their own facilities and who have taken clients through each of these steps.
Amistad Offshore Industries (Claudio Ramon)

Border Opportunity Saver Systems (Leo Martinez)

Larson Properties, Inc. (Frank H. Larson)
The Del Rio Chamber of Commerce maintains a list of available sites and existing buildings available in Del Rio and Ciudad Acuña.
As of June 30, 2018, the local labor force was 20,753 people and the area had an average unemployment rate of 4.5%. Del Rio graduates an average of 750 high school students annually.
Learn more from the 2022 Market Indicators Report
Transportation Infrastructure